GURUGRAM: Haryana is set to reopen schools for students of classes 9 and 11 from Monday, at a time the attendance in classes 10 and 12 has been merely 5-10% in the past week. It has been a week since physical sessions for students of classes 10 and 12 have begun, but the response has been so tepid that a few schools haven't seen a single student attending the three-hour classes. The attendance of teachers hasn't been any encouraging either.
This is the second phase of reopening of schools. The last time — in November — the government had to close down all schools within days of reopening after nearly 200 students tested positive.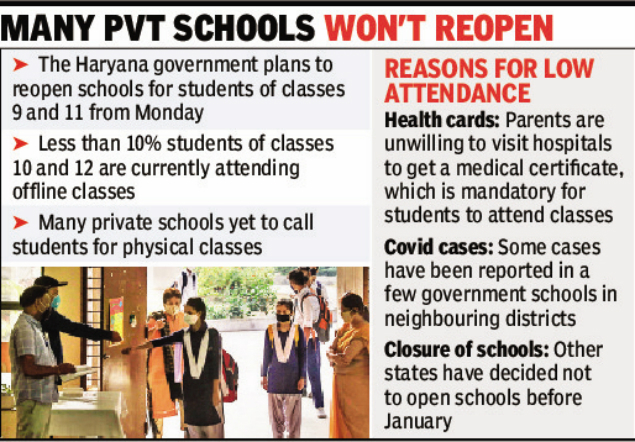 "This time, the attendance has been very low in the first week. Students and their parents are apprehensive about the physical classroom sessions and want to wait it out till the Covid situation normalises. In the past one week, our attendance has been between 5% and 10%. And we expect the same, if not less, for classes 9 and 11 too," said Sunil Sharma, the principal of a government senior secondary school.
The mandatory requirement of medical certificates for students attending these classes has been cited as a major challenge for the poor attendance. According to new norms mandated by the education department, students willing to attend offline classes in schools have to not only submit a consent form signed by their parents but also furnish a certificate saying he is fit. This has stoked concern as getting a medical certificate requires visiting primary health care centres.
Moreover, with several other states deciding to keep schools closed till the end of this month, parents have raised questions over the rationale behind calling students for physical sessions. "Visiting any clinic raises an alarm among people as these places pose a high risk of Covid. Our child may not be affected during the visit, but we may come back with the virus," said Ramesh, a parent.
Meanwhile, private schools have seen mixed responses from parents. While many schools in the city are continuing with online classes, a few others have reported a healthy turnout of students for physical sessions. Many CBSE schools, which are currently conducting pre-board exams online, have said they will take a decision on reopening for offline classes after the winter vacation.
A few schools, on the other hand, have argued that they have worked a way around the apprehension of parents about physical classes. "Initially, parents had raised concerns about visiting clinics and hospitals to get a medical certificate. We discussed the issue with the health department and suggested that parents could give an undertaking that their ward and other family members do not have Covid symptoms," said Col KR Pratap Singh (retd), senior vice-president of Haryana Progressive Schools Conference and chairperson of Colonel's Central Academy.