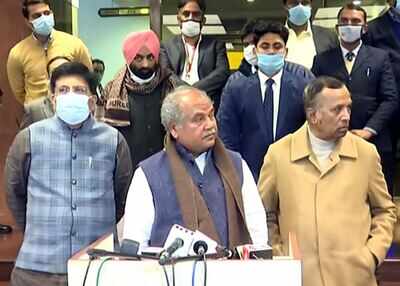 Union agriculture minister Narendra Singh Tomar along with Union minister of commerce and industry Piyush Goyal and MoS commerce and industry Som Prakash speak to media after meeting with farmers' unions leaders over farm laws, at Vigyan Bhawan in New Delhi on Wednesday. (ANI Photo)
NEW DELHI: The Centre on Wednesday agreed on the farm unions' two less sticking demands – decriminalisation of stubble burning in new ordinance on air quality management in NCR and adjoining areas, and not to go ahead with the proposed Electricity (Amendment) Bill. A consensus to discuss two core demands such as repeal of farm laws and legal guarantee to MSP in the next meeting on January 4 was also arrived at.
The agreement was reached after over five hours of talks between farmers unions and a group of ministers at Vigyan Bhawan. Though both the sides could not make any headway on the core demands, enlisted as the first two items in the agenda as desired by unions, the "in principle" decision of the government on the third and fourth demand during the meeting created an atmosphere to take the talks forward.
The government side also appealed to the participating farmers' unions, whose list was on Wednesday expanded from 40 to 41 with including one additional representative from Bhartiya Kisan Union (BKU), to end their agitation so that the elderly, women and children can return home. Farmers' unions, however, decided to continue with their protests till their core demands are met.
"There were four points on agenda today, out of which two demands have been agreed upon. Unions want repeal of the three farm laws and legal guarantee to MSP. The government has been saying that MSP will continue. We are ready to give this in writing. But farmers' unions feel MSP should get legal status. So, the discussion will continue on these two remaining issues on January 4," said agriculture minister Narendra Singh Tomar after the meeting.
During the talks, Tomar even urged the unions to suggest any alternative to repeal of farm laws saying if they would provide an alternative, the government would agree on it within 24 hours. Unions, however, insisted for repeal of laws.
On the repeal issue, Tomar said that this can be referred to a committee which will study the "constitutional validity and propriety keeping in mind the welfare of farmers". He asked the farmer leaders to put forward their proposals which the government will study and discuss.
Underlining that "both sides need to take steps forward to arrive at an amicable solution", he told the farmers' representatives during the meeting that their demand for an MSP law and the difference between MSP and market rates for agricultural produce would be referred to a committee when it is constituted.
"On MSP as a legal entitlement of all farmers, the government proposed a committee, which they said could also look into the three central farm acts. This was not acceptable to us. We explained about the processes that were run in the past around MSP as a legally guaranteed price and the private member's Bills introduced in Parliament with support of 21 political parties," Kavitha Kuruganti of Mahila Kisan Adhikar Manch told TOI. Kuruganti is the only woman farmer representative who attended the talks.
Besides Tomar who led the government side, railways and food & consumer affairs minister Piyush Goyal, MoS commerce & industry Som Parkash, agriculture secretary Sanjay Agrawal and other senior officials of the ministry attended the talks. The meeting on Wednesday was held in a cordial atmosphere where the minister even shared 'langar' (food brought in by unions) with the farmer leaders and the later reciprocated by having evening tea arranged by the government. Tomar during the meeting also complimented farmers' unions for keeping the agitation disciplined and peaceful and assured that the government is taking all possible steps for the welfare of farmers.
Explaining the "in principle" decision on farmers' demands, Tomar said since the unions were apprehensive about penalty provision on stubble burning issue in the new Ordinance on air quality management, the government decided to exclude farmers from the ambit of new law by "decriminalising" it.
The Ordinance currently has provision where any non-compliance or contravention of any provision/rules or order/direction of the statutory Commission will be an offence punishable with a jail term up to five years or with fine up to Rs 1 crore or both.
Officials said the government would now exclude farmers from it as far as stubble burning was concerned, and keep penalty provisions only for industries, transport, construction units and others for their respective polluting activities in Delhi-NCR and adjoining areas.
On the proposed Electricity (Amendment) Bill, Tomar said, "Farmers feel that if reform is introduced in the Electricity Act, they'll suffer loss in terms of subsidy. Unions wanted that electricity subsidies given to farmers by states for irrigation should continue. The consensus was reached on this issue also".
The government's decisions on two 'less contentious' demands come when the farmers' movement has started spreading to other states including Uttar Pradesh, Rajasthan and Maharashtra.
"Despite the Uttar Pradesh government's efforts in containing the impact of Delhi border agitation, farmers in the state are gearing up in support of agitating farmers and their demands. As opposition parties such as Samajwadi Party and RLD are not playing active role, the movement is led by farmers at village and Khap levels in traditional form similar to previous agitations which the state had seen during Chaudhry Charan Singh's and Mahendra Singh Tikait's times. If agitation continues in Delhi, mobilisations of farmers from western UP will be picked up in next couple of weeks," said Sudhir Panwar, former member, UP Planning Commission.
FacebookTwitterLinkedinEMail