Soon after the January 6 US Capitol riot, social media app Parler which is said to be popular with American right-wing users got removed from Apple App Store and Google Play. As per a report by
Reuters
, Parler was not the only app to be blamed and platforms like Telegram and Gab also helped rioters "after mainstream platforms such as Twitter and Facebook started aggressive policing of political comments."
Citing this irregularity, the Coalition for a Safer Web has sued Apple for not banning Telegram, while Parler continues to remain banned. The lawsuit also claims how Telegram's USP features could be used to spread hate, plan violence and alleges that Telegram is already being used for doing the same in the US.
"Specifically, with respect to the Telegram application, Apple has allowed Telegram to be distributed through the App Store knowing that Telegram does not comply with Apple's developer guidelines and that Telegram is routinely used to violate California's hate speech law, California Penal Code § 422.6," alleges the lawsuit.
As per the lawsuit,
The Coalition for a Safer Web Versus Apple
by Mike Wuerthele on Scribd
, "Telegram was founded by CEO Pavel Durov and is currently based inDubai after leaving Russia, Berlin, London, and Singapore due to local IT regulations."
The lawsuit simply refers to Telegram's FAQ page and USP features to explain how the app can be 'equally dangerous' like Parler. It quotes an FAQ, "Question: There's illegal content on Telegram. How do I take it down? Answer: All Telegram chats and group chats are private amongst their participants. We do not process any requests related to them."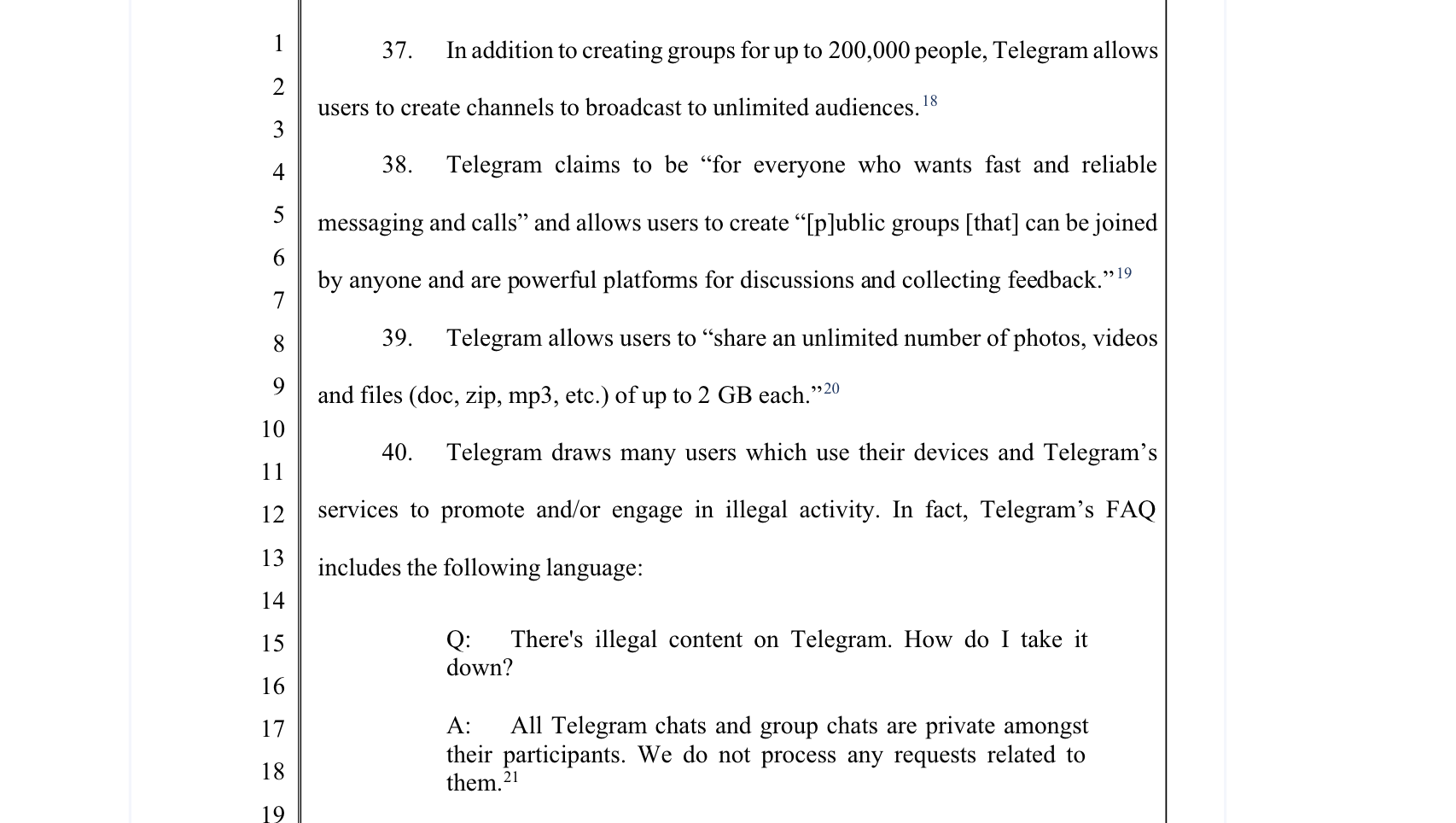 The lawsuit talks about major concerns about allowing Telegram and how it's USP features can fuel violence. These are the key highlights:
-Telegram has over 400 million active users.
-You can access your messages from all your devices at once.
-You can send media and files, without any limits on their type and size.
-Your entire chat history will require no disk space on your device, and will be securely stored in the Telegram cloud for as long as you need it.
-Everything on Telegram, including chats, groups, media,etc. is encrypted using a combination of 256-bit symmetricAES encryption, 2048-bit RSA encryption, and Diffie– Hellman secure key exchange.
-You can create group chats for up to 200,000 members,share large videos, documents of any type (.DOCX, .MP3,.ZIP, etc.), and even set up bots for specific tasks.
-It's the perfect tool for hosting online communities and coordinating teamwork.
-It works even on the weakest mobile connections.
-For those interested in maximum privacy, Telegram offersSecret Chats. Secret Chat messages can be programmed to self-destruct automatically from both participating devices.This way you can send all types of disappearing content —messages, photos, videos, and even files. Secret Chats use end-to-end encryption to ensure that a message can only be read by its intended recipient.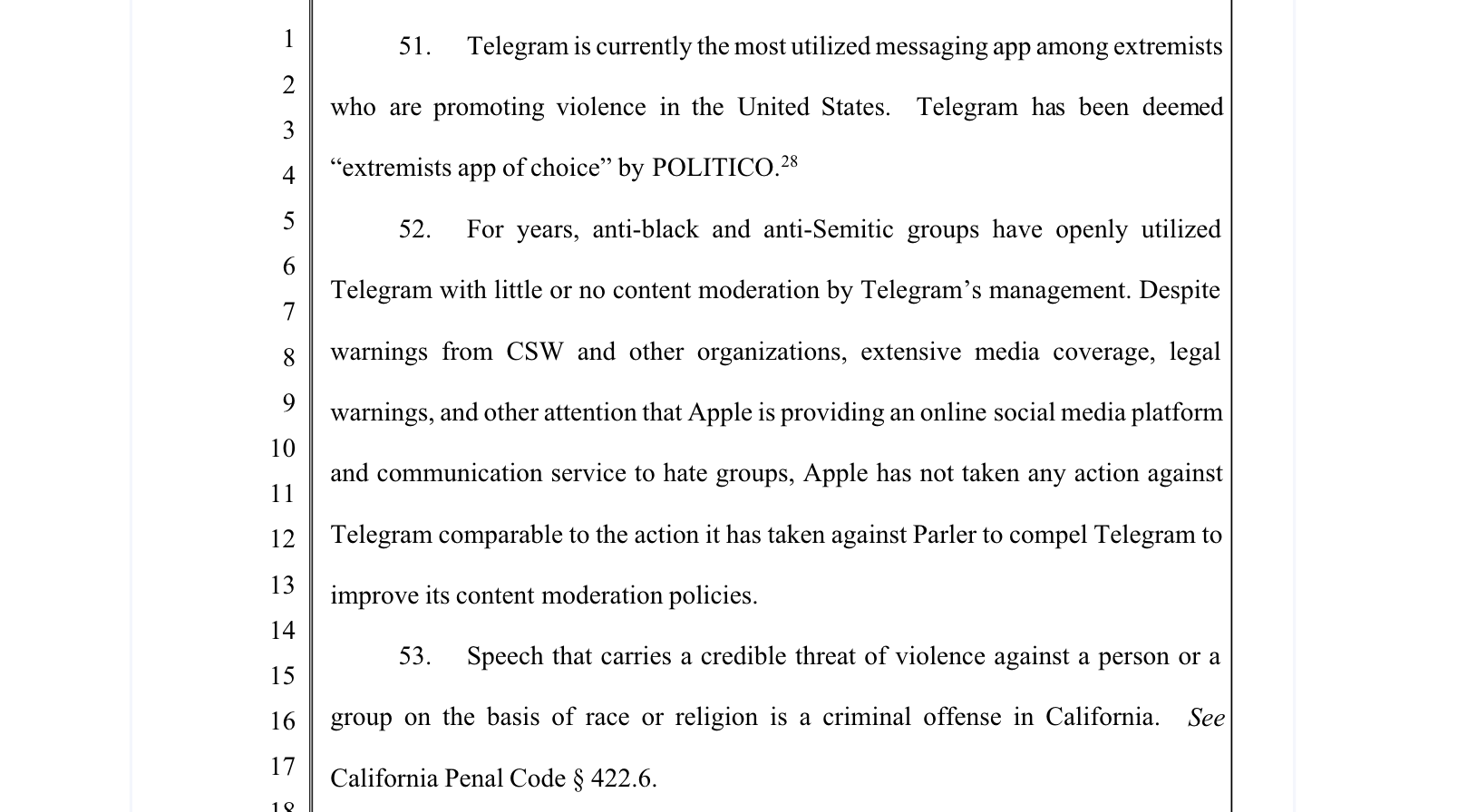 Citing these features that can enable anonymous chats to incite violence, the lawsuit alleges "Since its launch in 2013, Telegram has been the subject of derision for facilitating voices of violence and extremism. Most recently, in the wake of the killing of George Floyd, Telegram has played an essential role in threatening as well as encouraging and coordinating racistand anti-Semitic violence."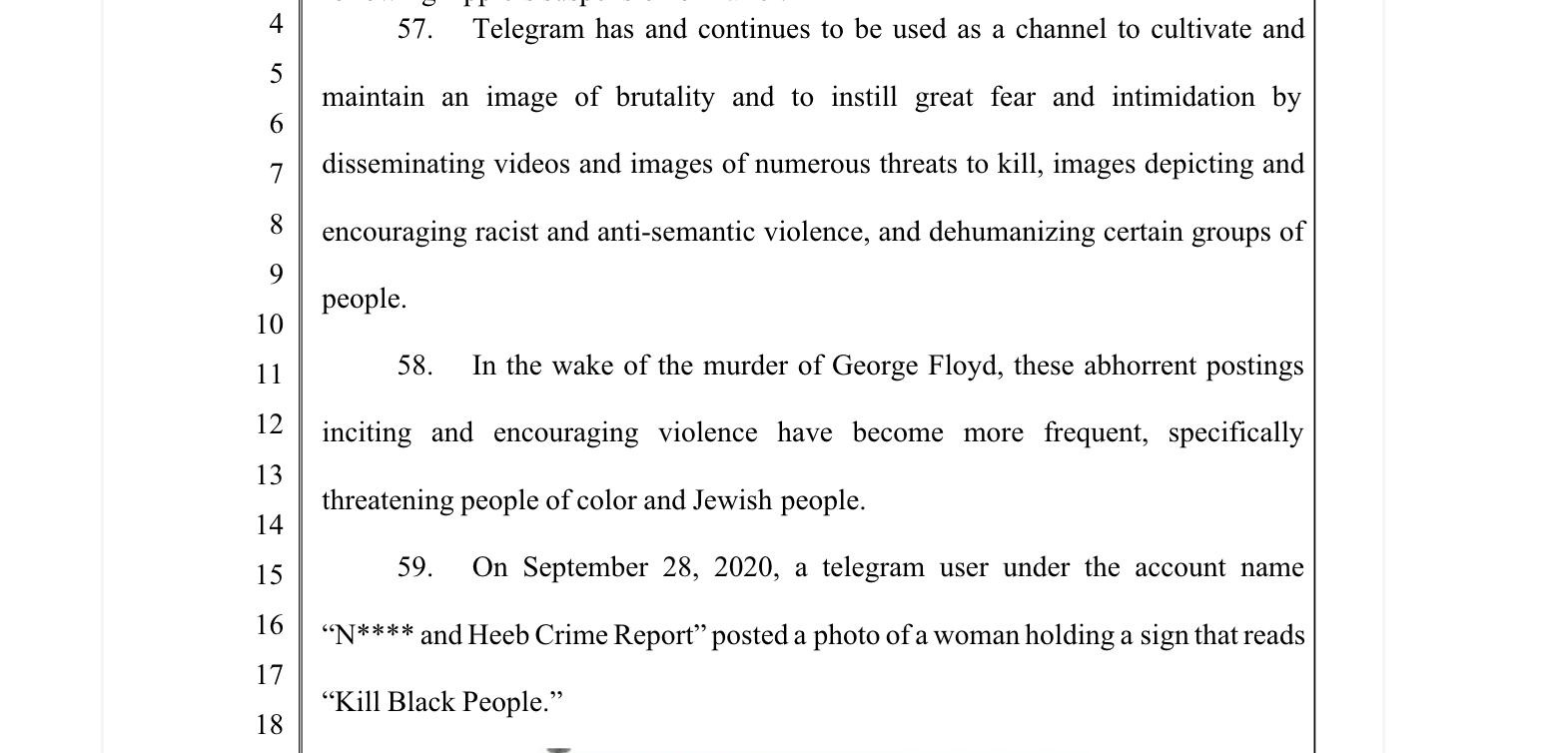 The Coalition for a Safer Web claims that Apple is failing to follow its rules, regulations and policies. The lawsuit was filed in the U.S. District Court for the Northern District of California, by Ambassador Marc Ginsberg and the Coalition for a Safer Web for not banning Telegram for reasons highlighted above "despite Apple's knowledge that Telegram is being used to intimidate, threaten, and coerce members of the public."