Pokémon Go game maker Niantic is hiring for contractual positions in Mumbai and Hyderabad as it wants to expand its footprint in India. The software development company based in San Francisco is looking for "Local Growth Scout" as per a LinkedIn job post (first spotted by
IGN India
). It's a junior level role and Niantic wants someone with over three years of experience in the mobile or gaming industry. It is needless to say that the role requires the candidate to be familiar with the Pokémon Go community.
The job description posted by Alan Mandujano, Growth and Business Development Manager for Niantic Emerging Markets reads, "Niantic's Emerging Markets team is seeking a Local Growth Scout in India to work alongside Niantic's business leaders responsible for generating momentum and engaging local Pokémon GO communities…Identify vendors,scout partnerships, manage relationships, local content creation and more."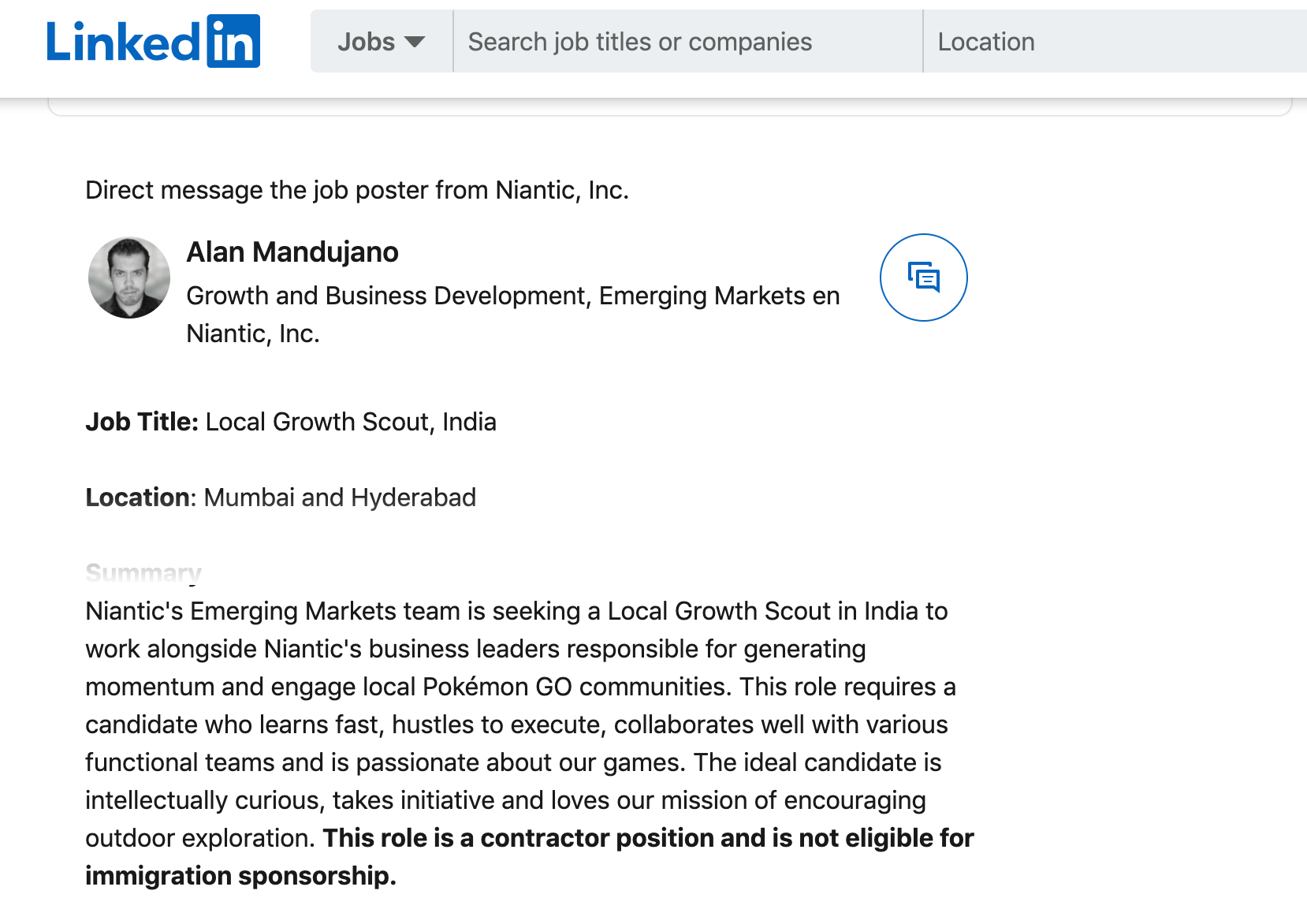 Going by the job description, Niantic wants to develop a strong local community of Pokémon Go players in India and also make things more engaging in the country by enabling local points of interest in its games.
Niantic is also known for popular games like Harry Potter: Wizards Unite and Ingress apart from Pokémon Go.
According to a report by Sensor Tower, Pokémon GO earned $1 billion in revenue from player spending in the first 10 months of 2020. Pokémon Go is third on the list of games that made most money in 2020. PUBG Mobile and Honor of Kings are the two top grossing games of 2020.
Pokémon GO has earned $3.2 billion in player spending since its launch. The game's most lucrative market is the United States with $1.5 billion in revenue coming from there. "Japan ranks No. 2 with $1.3 billion in revenue, or 31.3 percent, while Germany ranks No. 3 with $238.6 million, or 5.7 percent," as per a report by Sensor Tower.